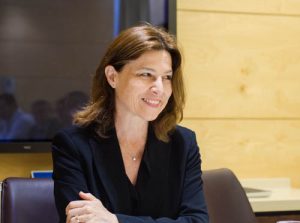 Future discussions on breaking the deadlock between Israel and Palestine require a direct dialog without preconditions between the two states, and not a multilateral approach as favored by Palestinian leaders, Israeli Ambassador Aliza Bin-Noun told us on June 21.
Speaking to 15 AAPA members over breakfast at the Israeli embassy, Ms. Bin-Noun reasserted Israel's hostility to French-led attempts to broker a peace agreement. Some 30 diplomats and ministers from Arab and western countries, the U.N. and the E.U. met in Paris at the initiative of the French government on June 3, but without representatives from Israel or Palestine.
"From the outset, we made it clear that we weren't enthusiastic about this initiative," she said. "It's only through direct dialog that something can move forward. The support by the international community for the French initiative, she said, only encourages the Palestinians not to come to the negotiating table in an effort to bring further pressure on Israel to make concessions. "It really raises the expectations of the Palestinians that something will really happen in their favor. If nothing happens, the disappointment will be to such an extent that it can translate into more violence on the ground," she warned. Palestinian preconditions for resuming the dialog, notably a freeze on the construction of new settlements, "are a non-starter," she said.
Ms. Bin-Noun reviewed Israel's concerns in the Middle East, stressing the threat from Iran, which she said remains unchanged despite its warmer relations with western countries. On the ongoing civil war in Syria, she said Israel "doesn't want to be involved in whatever is happening in Syria. We have enough on our plate. We don't support either side."
Asked about Egyptian president Abdel Fatah al-Sisi's recent offer to help in bringing the Israelis and Palestinians to the negotiating table, Ms. Bin-Noun acknowledged that the increasing extremist threats in the region could lead to warmer relations between Israel and moderate regimes in Egypt, Jordan and the Persian Gulf that also feel menaced.
-David Pearson