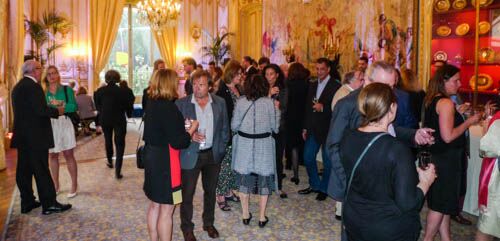 The 2016 AAPA Gala was another resounding success this year despite the showery weather that kept us indoors. Held on Tuesday, June 14, at the residence of our honorary co-president U.S. Ambassador Jane D. Hartley, it attracted 87 members and their guests over appetizers and free-flowing champagne and wine.
U.K. Ambassador Sir Julian King, our other honorary co-president, joined in the festivities. In speeches, both ambassadors lauded the work of the press in these difficult and polarized times in each nation and in France and the European Union at large.

Ambassador Hartley praised the association's past and present officers for their efforts to keep France's oldest journalists' group "alive, relevant and vibrant." The AAPA, she declared, is "a stark example of the efficacy and importance of international collaboration" and said our role in producing "true, substantial journalism" is all the more important at a time when "news" is increasingly reported in sound bites and tweets.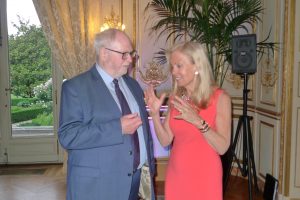 Sir Julian apologized that he couldn't comment on the impending U.K. referendum on E.U. membership due to a blackout on policy statements, but then impishly reminded us of the government's view that remaining in the E.U. would be better for Britain. As it turned out one week later, the British electorate voted for "Brexit", heralding in a period of deep political and economic turmoil for Britain and indeed Europe.
In his remarks, David Pearson, AAPA President, thanked Ambassador Hartley for her hospitality and Sir Julian for his presence.
He described how busy we had been, noting 13 events organized over the past year (not including our successful monthly Happy Hours), and said the pace is stepping up with a total of six events served up to AAPA members in the space of six weeks.
He thanked in particular the work of our coordinator Maria Vincenza Aloisi who keeps this "unruly bunch" together and the work of the committee members who volunteer their time and energy to keep the AAPA the most dynamic journalists' association in Paris.
Amid strikes, looming terrorist threats, floods and political uncertainty, this was undoubtedly a bright spot of the spring. And eventually the sun came out.
-Sara Miller Llana