The vote by British citizens in favor of the U.K. leaving the European Union has created a "ludicrous" situation, with the proponents of exiting the 28-nation group not seeming to have prepared a plan of action, the head of the Foreign Affairs Commission of France's National Assembly told the AAPA.
Speaking to over a dozen AAPA members in the commission's meeting room on June 27, just a few days after the U.K. referendum, Elisabeth Guigou noted that the campaign of the "leave" faction had ignited xenophobic and racist tendencies in part of the British electorate, and that right-wing politicians elsewhere in Europe, including Front National leader Marine Le Pen, had applauded the decision.
She called on the British government to invoke Article 50 of the Lisbon Treaty as quickly as possible to start the withdrawal negotiations. But she acknowledged that Continental European governments can't force U.K. Prime Minister David Cameron to do so, saying "we can only put political pressure" to bear.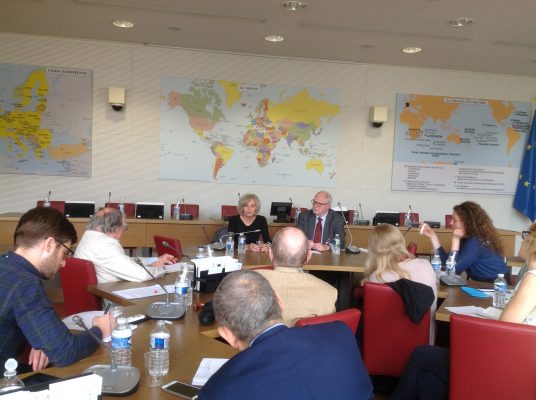 Mme. Guigou said that while the post-Brexit situation isn't likely to create "chaos," it was a bombshell stemming from a "ridiculous, grotesque" political manoeuvre, by David Cameron to heal a split inside the Conservative Party. She admitted that she's "extremely worried" about the consequences, and said EU officials must now start discussing the conditions of the divorce between Britain and the EU.
The EU will still be able to have bilateral relations wit the UK, she went on, "but at a different level".
The challenge now is for EU governments to think about the reasons for the UK decision and disaffection with the EU that's being exploited by populist politicians. "I think that in order to defeat this skepticism, this phobia, it's not grand, general speeches that are going to convince anyone…
Are we able, with the European Union, to assuage the main concerns of European citizens?" Many of those pushing for Brexit played on peoples' worries of job security, sluggish economic growth and immigration.
Other topics that came up during the 90-minute meeting included France's Middle East peace initiative, relations with Russia, and the need to apply existing directives on controlling the movement of people under the Schengen Treaty, which Mme. Guigou helped to draft 25 years ago.
– David Pearson