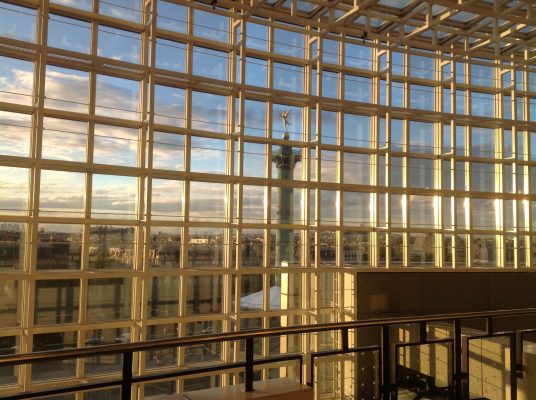 Most of the audience looked as though it would have been better suited to a rock concert. Certainly not a preview of a new, modern-day production of Camille Saint-Saëns' 19th-century opera Samson and Delilah at the Paris Opera Bastille on October 1. Not only were they young (under 28 years of age), but they had all bought tickets at the rock-bottom price of 10 euros each.
The performance was part of the Opera's new strategy to cultivate a new generation of opera-goers by making tickets cheaper than the cost of a lunch – the brainchild of Stéphane Lissner, who was appointed Director of the Opera de Paris in October 2012, taking the reins in August 2014.
Lissner spent an hour talking with the Anglo-American Press Association before the performance, outlining plans and explaining the background of the legendary institution which incorporates opera, lyric music and dance in three performance spaces: Palais Garnier (built in 1875 with 2,105 seats), Opera Bastille (1989 with 2,745 seats) and the 3rd Scene – an abstract use of non-stage spaces within the opera houses which has had 834,000 visits since its inauguration last year.
Lissner's plans are ambitious and aim to bring the nearly 4-centuries-old institution into the 21st century. Of this season's projected 197 opera performances and 173 ballets, 26 will be new productions. That is not counting the symphony concerts, chamber music concerts, recitals and dance in the public spaces in Palais Garnier. And of course more previews for the under 28-year-olds.
Lissner's rolodex – after several years managing Milan's La Scala and Austria's Festwochen in Vienna as well as the Chatelet in Paris and co-directing the Theatre des Bouffes du Nord with Peter Brook – is a good source of patronage and sponsorship money. That is a necessity, he says, as the state portion of the Opera's operating budget keeps slipping. The preview attended by the AAPA, for example, was largely underwritten by Fondation BNP Paribas.
Despite what seems like an annual hike in prices, ticket sales make up a relatively small portion of the budget; however, the Opera has a million (yes: 1,000,000,000) seats for sale. But they are likely to go fast for Samson and Delilah if the standing ovation at the end of the October 1 preview is any indication of success…
-Shellie Karabell