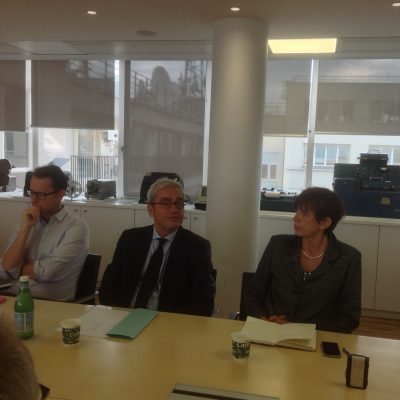 Opening a bureau in North Korea, arguably the world's most secretive state, inevitably involves making compromises, Emmanuel Hoog, the CEO of Agence France-Presse, conceded in a meeting on Sept. 20 with the AAPA.
AFP inaugurated its bureau in Pyongyang in early September in a deal
with KCNA, North Korea's official news agency, and it has a permanent
staff there of a North Korean photographer and a videographer.
The local staff will likely not be able to file anything that offends
the ruling party. But the agreement also allows AFP to regularly send
teams of foreign text, video, and photojournalists into the pariah
state. Copy will be written in Seoul or Hong Kong, which the French
agency hopes will enable it to provide as full a picture as possible of
today's North Korea.
Around 25 AAPA members attended the meeting with Mr. Hoog and two of his
senior news executives, Michèle Léridon and Phil Chetwynd.
The CEO and his colleagues also fielded questions about potential
pressure from the French state, which partly funds the agency. They said
there was little or none.
Mr. Hoog also talked about the difficulties facing the agency when so
many media clients are "sick," about why AFP has no plans to become a
B2C (business to consumer) supplier of news in the French market but
might consider this in foreign markets, and about its efforts to boost
video output despite having got off to a very late start.
– Rory Mulholland