The recent renovation of the American Library was done with the user in mind, Director Charles Trueheart told an early bird group of AAPA members and their guests over coffee and viennoiseries on Oct. 11. We met before the opening to the public at 10 AM in a spacious, carpeted downstairs book-lined meeting area, formerly a dark and forbidding basement for books.
"The new plan provides a mental map for the user. When you walk in the door, you can instantly see straight ahead to the Reading Room and the stairs leading upstairs to the stacks and downstairs to the meeting room," said Trueheart, a former Washington Post correspondent and AAPA member before becoming the Library's Director in 2007.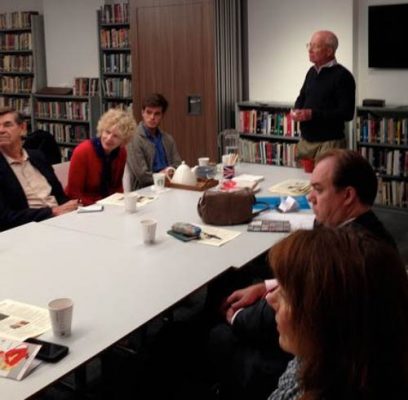 Trueheart emphasized that the Library has been a fixture of the American community in Paris since its founding in 1920 after American librairies dispatched more than a million books to service personnel during WWI.
Edith Wharton was among the first trustees; Ernest Hemingway and Gertrude Stein contributed to the Library's periodicals.
Today the Library, which counts 3000 members, of which half are American, a quarter French, and the rest from 60 other countries, continues its traditional activities, such as the popular weekly Evenings with an Author program at which some of our AAPA members have spoken, and created an Annual Book Award for the most distinguished English-language book of the year about France and a Visiting Fellowship for authors.
Trueheart noted that with more than 100,000 books the Library has three times the number of books of any same-sized library in America, and is the largest English-language lending library in Europe.
– Harriet Welty Rochefort