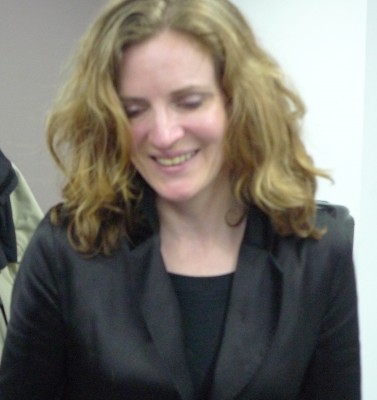 Right-wing candidate for Mayor of Paris, Nathalie Kosciusko-Morizet (NKM), was the latest local, political figure to meet with the AAPA ahead of the March municipal elections and explain her positions on issues varying from transport to housing, ecology, taxes and security.
Around 20 of our members went to NKM's campaign headquarters in the 2nd arrondissement on Feb. 27 for what turned out to be an informative, stimulating meeting. I was at times a challenging one for her as she fielded questions on issues ranging from local traffic management in the 14th arrondissement, where she is running, to immigration and the business environment in the French capital.
The former minister and spokeswoman for Nicolas Sarkozy in the 2012 presidential race maintained that, if elected, she would reverse trends in Paris and instead of allowing the city "to sap the energy of Parisians" she would create an environment that would "re-energise inhabitants" and allow them "to draw on the energy of the city."
She outlined many projects in a seven-point plan that included urban rehabilitation of areas around several main railway stations and freeing up deserted city plots for housing construction and other developments.
Touting her Polish émigré roots that date back to the 19th century, Ms. Kosciusko-Morizet said "Paris is the city of emancipation" and this applies to those leaving other places in a form of escape, or those coming here to realise a dream. She said she represented this "emancipation" and noted she has always been a "fighter" in order to move forward.
She hit out at the record of Anne Hidalgo, her rival for the Paris mayorship, revealing that she had offered the deputy mayor who is leading the race in the polls several opportunities for a public debate. However, she said, the Socialist candidate hadn't responded to the invitation and had even "lied" about her refusal to spar with NKM on national television.
After our lively one-hour discussion, Ms. Kosciusko-Morizet invited AAPA members to come to her party HQ on the nights of the elections on March 23 and 30.
–John Keating
Front picture: Thomas Haley