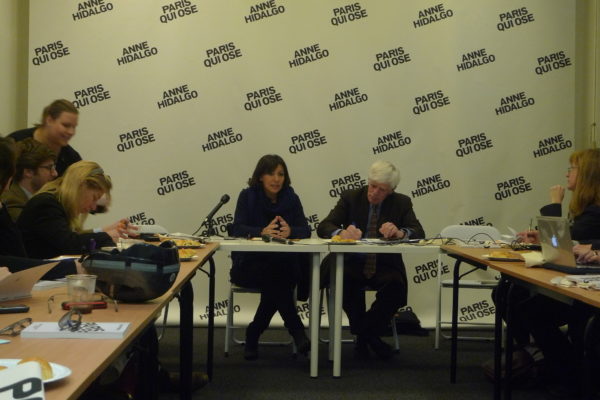 Socialist Anne Hidalgo, running hard to become Paris' first female mayor, created headlines in France and abroad with barbed comments about London when she met with the AAPA at her campaign headquarters Jan. 17.
During a lively meeting with 25 AAPA members, the popular first deputy mayor defended the track record of outgoing mayor Bertrand Delanoé, who she pledged to follow if elected. In the discussion, she touched on a broad range of issues, including tourism, dog poo on sidewalks, car parking, French rudeness, petty crime, security, shopping and business start-ups.
With recent polls showing that the two-round election March 23-30 will be very close, Ms. Hidalgo rebuked her equally aggressive UMP opponent Nathalie Kosciusko-Morizet for presenting Paris as a city losing its dynamism and international attraction.
"She tries to present Paris as a city in decline…engaged in a kind of Paris-bashing. She doesn't seem to like Paris too much," Ms. Hidalgo was quoted as saying by AAPA's newest member, Ben McPartland, editor of the online The Local.
Other media, mainly in the U.K. and France, carried reports on our event, and many cited the AAPA, giving us welcome plugs.
The London angle, however, dominated most of the questions and responses, largely triggered by a front-page article in Le Figaro the day before our meeting claiming that London had "dethroned" Paris as the world's most popular tourist attraction.
"Like it or not, while London may have attracted more visitors around the Olympic Games, Paris remains the number one… even if we only include foreign visitors and not national ones," she was quoted as saying by Henry Samuels of the Daily Telegraph, who recently joined the AAPA.
But no single statement created more headlines and comment than her statement that "London is in some ways a suburb of Paris." That quote was also picked up by Libération, and Le Monde also ran an item referring to her meeting with the "Anglo-Saxon" press.
In other comments, Ms. Hidalgo said:
-The Paris city administration is "more rational" in its communication strategy than London's, whose public statements often are "beyond the truth."
-Paris attracts more business start-ups than London.
-A greater police presence is planned, restoring cuts under the Sarkozy government, to crack down on petty crime like pick pocketing.
-London department stores may remain open Sundays, but Paris continues supporting a far greater number of smaller, independent stores and shops downtown.
-Dog poo on sidewalks is will be met with greater police enforcement, including fines.
-She is eager for a public debate with her UMP opponent prior to the first round of elections, but Ms. Kosciusko-Morizet has regularly refused.
-No one seriously terms Paris a "museum city" like Venice, and instead it's regularly compared to rival cities like New York and London.
-Axel Krause