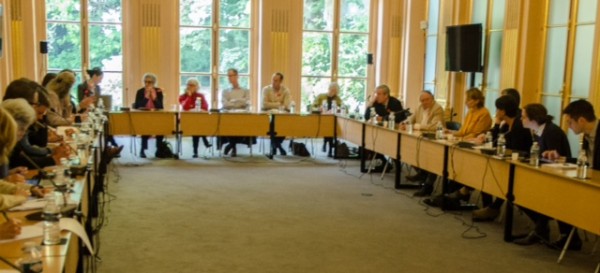 France must avoid being overly dogmatic in the interpretation of rules separating church and state, and "militant secularism" of the kind that bars mothers with headscarves volunteering on school outings is "counter-productive," Education Minister Najat Vallaud-Belkacem told the Anglo American Press Association on June 1.
In a 90-minute meeting with over two dozen AAPA members at her ministry, France's first female education minister fielded questions on a broad range of subjects, from secularism to her controversial collège (middle school) reforms to the opposition UMP rebranding itself Les Républicains.
On the laws banning the wearing of headscarves and other religious symbols in schools, the 37-year-old minister deplored the "pointless tensions" of recent years and urged a more tolerant approach.
"We have to be careful not to have in our country a sort of militant secularism which is counter-productive vis-à-vis the children we would like to see embrace secularism…The idea is not to impose it as a strict rule or theoretical imperative but to bring it alive for children," she said.
That means accepting veiled mothers who volunteer to help with school outings, she said, noting instances where such women have been barred from getting involved. Only in cases where the mother is obviously engaging in "proselytism" should she be turned away, Vallaud-Belkacem said.
Controversial planned reforms to the collège reforms, which brought teachers' unions onto the streets last month prompted several questions from members.
Claiming a mission to stamp out inequality, the government cut back on Latin and Greek, seen as elitist, and scrapped the bilingual classes available to the most gifted pupils. Instead, all pupils will begin learning a second foreign language from around the age of 12, and more time will be given over to interdisciplinary work.
Conservatives have accused the government of "dumbing down" the education system, while some teachers said they feared the changes would accelerate the flight of brighter pupils to semi-private schools. Changes to the history curriculum, which including making the 18th century Enlightenment and medieval Christianity optional subjects, also proved divisive.
Vallaud-Belkacem, who admitted that she herself had studied Latin, said her aim was to ensure that the "door of privilege" wasn't opened to "only a few children from modest backgrounds" like herself.
"I want all kids to be given their chances, whether they're from modest backgrounds or not".
As for the extra time given over to interdisciplinary work, or "learning by doing" as she called it, using the English term, France is merely playing catch-up on northern European countries where teachers of different subjects are often called on to collaborate.
The difference is that in France all attempts to reform schooling, no matter how timid, meet with stiff resistance, she noted.
"We're a country that loves talking about school. It's as if the future of humanity is at stake! We convinced ourselves that we had reformed the school system in recent years but we didn't…The serious business is only starting," she said.
Some experts see the reforms as not going far enough to address the falling performance of French schoolchildren in international studies.
Vallaud-Belkacem acknowledged there was still work to do, particularly to promote a greater social mix in schools. In the wake of the January jihadist attacks in Paris Prime Minister Manuel Valls spoke bluntly of France's "territorial, social and ethnic apartheid".
For the education minister, "children are much too separated today". She said the government was working with local authorities on expanding the borders of school catchment areas to facilitate social mobility.
One thing that's not likely to change anytime soon is France's generous school holidays. Defending the nine weeks of summer holidays enjoyed by French schoolchildren, compared with six in Germany and 12 or 13 in many eastern and southern European states, Vallaud-Belkacem expressed the widely-held French view that "it's better to be in a society where we have holidays than one where we have too few."
As for the frequently personal nature of the attacks she has drawn, the Moroccan-born minister dismissed the idea that the opposition's "permanent attempt to discredit" her or her justice counterpart Christiane Taubira, who hails from French Guiana, was "a question of race or sex".
On the sexism front, things had actually improved, the former women's rights minister said.
"I see it when I'm attacked in a sexist way and the reactions on social media. Of course there's a lot of garbage written but there are also people who speak out against it, who can longer stand it – and that's a good thing," she said.
-Clare Byrne