Nearly 100 AAPA members and their guests had reason to cheer when they gathered for our annual Gala garden party – traditionally our most prestigious and well-attended event – on June 10.
Once again, we were lucky with the weather and were able to enjoy the gardens at the British Ambassador's residence, where we were hosted with customary warmth and good cheer by Honorary Co-President Sir Peter Ricketts and Lady Ricketts.
As the champagne flowed, the mood was jovial and convivial and it was a great introduction for several new members and a nice welcome back for a couple of "prodigal" members who had left us.
In his welcome address, Sir Peter reminded us of the importance of journalism but again recalled the terrible dangers many colleagues face while doing their jobs. He stressed the vital role of the press and gave encouragement to press professionals, who are facing difficult challenges in today's world.
Deputy Chief of Mission Uzra Zeya, representing U.S. Honorary Co-President Ambassador Jane D. Hartley, echoed Sir Peter's words on the increasingly difficult job we do and the need to support us.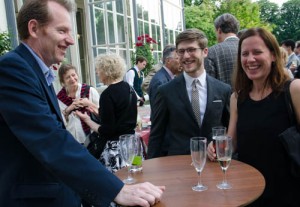 AAPA President John Keating observed that the Association has taken on a new dynamism over the past year and this has brought tangible rewards. Membership is continuing to grow at a fast pace – we have welcomed 17 new members since September 2014, many of whom were attracted by our more visible activity on the Paris scene.
The innovation of monthly social events where journalists and their friends can meet to exchange gossip and tips has also promoted greater interest from outside the AAPA, as well as a sense of cohesion among members, and the "Happy Hours" have been a big success. We have organized 17 successful events in just under a year – six with cabinet ministers – more than in any like period for many years, and several events are already in the pipeline after the summer break.
John thanked the membership for their continued support, for turning up for events, paying their dues and for their confidence in the AAPA leadership.
He noted that the past year was one of the best years the AAPA has had in a long time and he praised the commitment and hard work by the committee. "A ship's captain is only as good as his crew," he said.
David Pearson