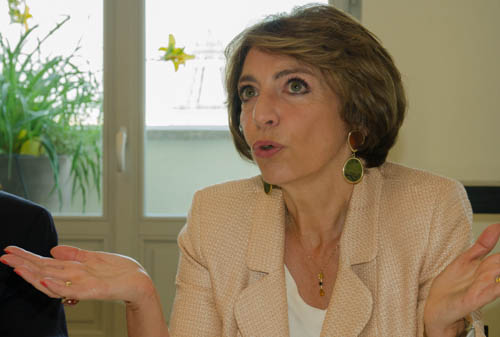 France's national health service may be one of the best in the world, but it urgently needs reform to make it more efficient and less costly, Marisol Touraine, Minister of Social Affairs, Health and Women's Rights, told a breakfast meeting with 25 AAPA members on June 16.
Speaking in her ministry's dining room with a spectacular view of the Eiffel Tower, Ms. Touraine spent nearly 90 minutes explaining in plain terms her thoughts on a variety of topics ranging from her plans for the health system to euthanasia and alcohol abuse.
She said she is against euthanasia, but in favour of assisted suicide as practised in Switzerland, Belgium, the Netherlands and a few states in the US. "I don't see why individual rights should stop when people become ill," she said.
Ms. Touraine's health reform bill, which should become law in the autumn, has provoked protests from practitioners. But that has not stopped her from introducing a number of measures since she took office in 2012, such as faster patient care in hospital emergency departments. Staff at the Nantes CHU (teaching hospital) told her the new system "has changed their lives."
Commenting on the uproar over the 35-hour workweek in hospitals, she said the number of working hours was not the issue, but the way they are organized. She insisted it was not her job to "poke her nose in" to the planned overhaul, and criticized Martin Hirsch, head of the Paris hospital administration AP-HP Assistance Publique-Hôpitaux de Paris (AP-HP), for communicating through the press initially rather than consulting the unions about the proposed changes.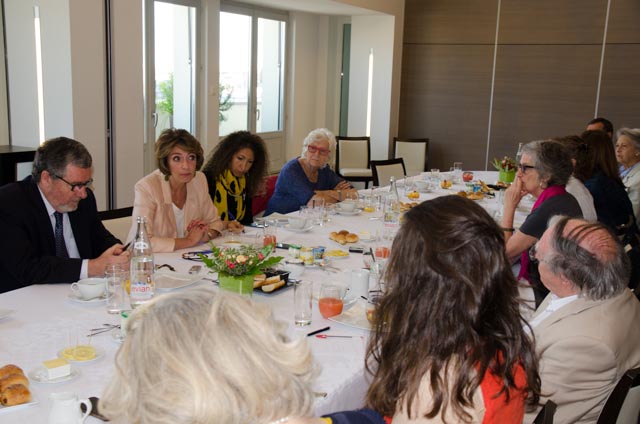 Although known for her tenacity, she denied she could not be swayed. "I am pretty easy to convince with good arguments," she said. "There is nothing worse than ministers who never change their minds or who change them all the time."
Asked what France could learn from other countries on health care, she said the anti-tobacco campaign in the UK was an example to follow. Only 20% of the population smokes in the UK, compared to 30% in France. By contrast, the UK health authorities seek advice from France on how to combat cancer.
-Barbara Casassus
To read published articles on our meeting, go to:
http://www.theguardian.com/world/2015/jun/16/france-in-denial-alcohol-smoking-health-minister
http://www.thelocal.fr/20150617/can-france-creaking-health-service-remain-number-one