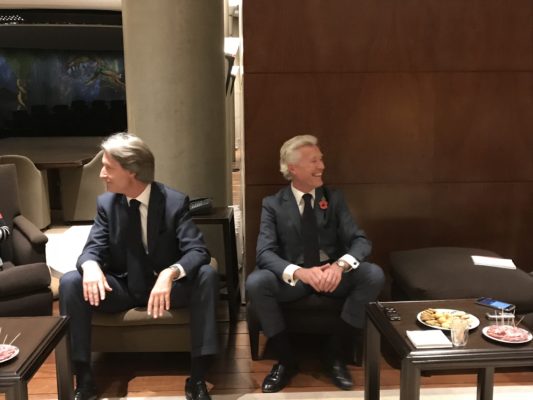 The two leading executives of JCDecaux, the global out-of-home (OOH) advertising company, held an on-the-record briefing at their Paris Headquarters for the Anglo-American Press Association of Paris.
The executives are sons of the founder: Jean-Francois Decaux, aged 59, is the Co-CEO and Jean-Charles Decaux, aged 49, is the President of the Board, and the Co- General Director,
Some topics covered:
On the mission of the company:
"Our content provides a better way of living for citizens in cities by giving them services for free to them [like bus shelters, public bathrooms, and other 'street furniture.]
"The notion of beautification is important to us. We work with famous architects. [Our street furniture] is a piece of design with the aesthetic that less is more…. We believe in cleanliness and never subcontract our maintenance."
Bundling vs. unbundling services: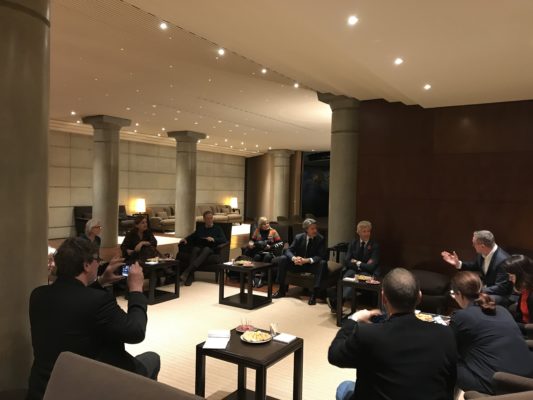 JCDecaux is in three broad categories of advertising out-of-home: Street furniture; Billboards; and Transport. They have built their company on bundling the services together as much as they can when bidding for business, as they have synergies among the services in a given city or neighborhood in terms of sharing their costs in maintenance, personnel and in ad selling.
However, the trend now is for cities to unbundle the contracts so they can get more competitive (cheaper) pricing so that the company has to make decisions to compete for this unbundled business – or not – and for them they generally do not.
Jean-Francois expressed skepticism about the effectiveness for cities of working with many vendors for the same physical fixture.
He said that the situation in London for them (where they only have the physical bus shelters) is not ideal since they did not get the maintenance contract.
He also talked about the city of Paris separating the bike rental market from the advertising market, so that now the city does not get the bike service for free, but has to pay for that service – hoping to make up the money in the ad revenue they receive from another company.
"Phigital"
JCDecaux out-of-door business is being deeply affected by the digital revolution in media, and Jean-Francois called their strategy Physical + Digital or Phygital strategy.
Street furniture is being equipped to receive live information for display, which not only broadcasts the advertisements, but gives citizens information about air pollution, traffic and the weather as it is happening.
The operating margin was 23% in 2013 but dropped to 19% in 2017 because "We are in the middle of a major transition to digital," said Jean-Charles.
The company is launching programmatic ad selling in the out-of-home categories. The managers said that right now 0% of OOH is sold that way, although in digital advertising, much more than 50% of advertising is sold that way. They see programmatic as the future across all ad categories. They are rolling out their platform in the U.K. called Viooh (pronounced View.) Jean-Francois says this "new IT platform means we will be going in a direction which we have never gone before."
Global, but specialized, and multi-local
JCDecaux "is the largest firm in the world for out-of-home advertising. And we are only about 13-14% of the global market. So there is a lot of room for us to grow and to consolidate. There are no frontiers," said Jean-Charles.
The brothers talked about their decision to stay focused as a pure player on OOH, with the goal to gain market share geography by geography in their space. At this time, their vision crashed head-to-head of that of CBS/Clear Channel which was to own media across all media – OOH, cable, TV, Radio other areas. Jean-Francois pointed out that Clear Channel is now in chapter 11.
-by Ava Seave
Adjunct Associate Professor, Columbia Business SchoolAdjunct Assistant Professor, Columbia Journalism School.
Ava, who closely follows JCDecaux's doings,  came along as a guest to the AAPA meeting with the Decaux brothers.