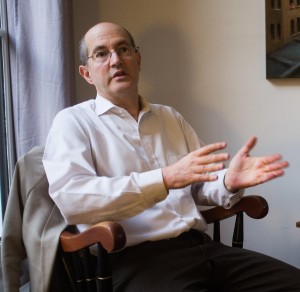 AAPA members now have a much deeper understanding of the controversial issues in France of immigration, citizenship and national identity after meeting on January 28 with Patrick Weil, historian and director of research at CNRS.
The informal gathering was kindly hosted by Secretary General Sara Llana in her apartment near Place de la République.
Weil is a true intellectual and has done a lot of thinking and writing on the social issues related to immigration and the debate over withdrawing French citizenship from dual nationals, and our lively and interesting discussion focused on these contentious topics.
Weil, who also happens to be an acquaintance of Francois Hollande (the two were in the same student union), told us he had recently met with the President to counsel him against modifying the constitution.
Weil said the most important thing in fighting terrorism is that the nation be completely united.
Much of the conversation was off-the-record as Weil regaled us with details of what's going on inside the French government as President Hollande tries to unite his party behind these controversial changes.
Other interesting topics that came up during our discussion included secularism in French schools. Weil was part of the Stasi commission on secularism that recommended banning the Muslim headscarf in French schools in 2004.
That was done, he said, to protect young Muslim girls who were being harassed in the schoolyard by males, if they did not wear the veil. He said the state has a special responsibility to protect minors. He therefore opposed the French government's ban on burkas worn by adults.
Weil knows Britain and the US well, and was able to put things happening in France in an international context.
-Eleanor Beardsley
Links to articles:
From Forbes :
http://www.forbes.com/sites/shelliekarabell/2016/01/31/terror-panic-and-cheap-politics/?utm_source=followingweekly&utm_medium=email&utm_campaign=20160201#2515bf8a1cea
From The Local :
http://www.thelocal.fr/20160202/french-lose-faith-in-hollande-to-lead-fight-on-terror