The investigative online newspaper Mediapart enters its 11th year with a growing paid readership, a healthy balance sheet, and its twin pillars of independence and diversity fully intact, co-founder and publishing editor Edwy Plenel told the AAPA on January 9.
When Mediapart was launched 10 years ago on March 16, 2008, virtually no-one – apart from the founders and the 25 staff- believed a paying online news service could survive. In those days, the received wisdom was that news on internet had to be free.
They were wrong. Mediapart's net profit rose to about 2.5 million euros last year from 1.9 million euros in 2016, its profit margin is higher than that of The New York Times, and subscribers now stand at some 140,000—having approached 150,000 during the French presidential election campaign last year.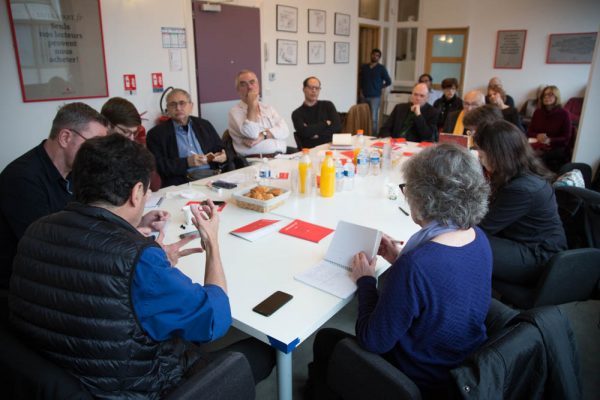 Plenel's editorial policy is selection. Whether scoops, analyses or a new perspective, stories have to represent value-added to those seen elsewhere. Insistence on diversity, which clashes with the prevalent single-identity principle, is another element « at the heart of our success. » The « affaire des affaires », which still has to be revealed in full, is Libyan funding for Nicolas Sarkozy's presidential election campaign in 2007, Plenel said. This will depend on how far the justice system will take the case, he added.
He recognized that Mediapart over-reacted in its scrap with Charlie Hebdo over Islam. « It is out of the question » for two independent newspapers « to be at war », especially when one has « paid (for its independence) with blood. » Plenel also regretted the silence from other media when former Prime Minister Manuel Valls said Mediapart should be « left out of the debate. »
The site carries no advertising, has no financial backers, no debt and since 2010 has received no subsidies from either the French government or Google, unlike other French media. It now has a staff of about 80, but will soon have a new editorial director, as present incumbent and co-founder François Bonnet will stand down this year. He said at the beginning that a decade would be his limit. The staff have until March to endorse, or not, Plenel's candidate to succeed him.
« We have to hand over to a new generation to build the rest of the adventure, » Plenel said.
His advice for any other news start-ups is to have enough cash to pay decent salaries for the first three years. This helped Mediapart to break even for the first time after only two and a half years, and Plenel to finish paying off his personal loan to the bank last December 31.
To mark its 10th anniversary, Mediapart will hold a two-day event on March 16-17 at the 104 cultural centre in the 19th arrondissement of Paris. The event will begin with an international conference on « The Right to Know » and follow with films, debates and exhibitions on the 17th.
For more information about our 90 minutes with Plenel, we will flag stories written by members who were there.
-Barbara Casassus
-Photos: Thomas Haley