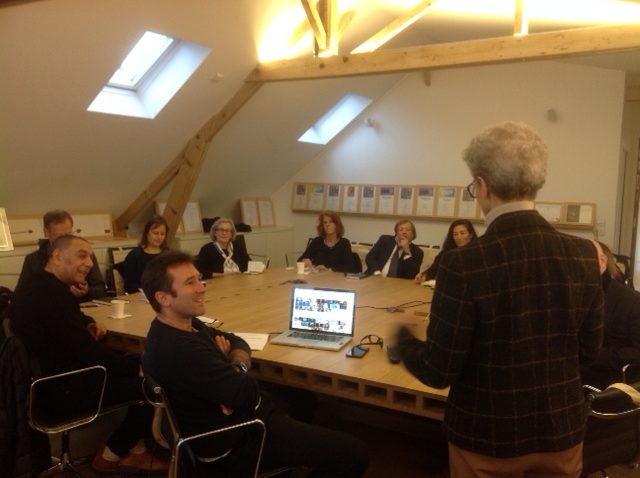 In this new industrial age, machines are going after white collar jobs…brain power jobs. In the words of Hilary Clinton, "Machines are not our friends." That thought was echoed by Fred Raillard & Farid Mokart at a breakfast gathering for the AAPA in the Paris headquarters of their media company FF Creative Community on December 12. "Regulations are the only thing that will save us," Fred added, referring to the need to steady the pace of the rapidly changing tech environment.
As their comms director, Jalila Levesque, told us, Fred Raillard and Farid Mokart are a duo of multi-awarded advertising creatives, professional soulmates, entrepreneurs, and angel investors. They've made an outstanding international career in the ad industry in Paris, London and San Francisco. In 2007 they founded FF, an independent creative boutique network based in Los Angeles, New York, Shanghai and Paris. This creative boutique network is specialized in strategic brand platforms, social media content, tech, and creativity.
F&F see the relationship between customers and companies changing: "Customers are actually buying the company and its reputation," says Fred. "They want transparency. CSR (Corporate Social Responsibility) dominates their communications space. Social media changed everything – companies cannot advertise by buying space in social media; they have to deserve to be there."
To this end, F&F showed us several TV commercials they had made for clients: those for HP emphasized not selling printers and equipment, but the company's push for diversity and overcoming prejudice in hiring practices.  A campaign for Louis XIII Cognac – whose brand is based on heritage and the century it takes to create the beverage – was based around a film which would not be shown for 100 years, starring quirky American actor John Malkovitch. The campaign included a "non-opening" in Hollywood and a ceremony locking the film away in a vault to be opened in 100 years. Press coverage was enormous.
"The Red Bull community is all about courage, action, a community of crazy people doing crazy things, so in this space they can sell anything," they said, as an example of today's company-customer community.  Farid emphasized that most brands don't have a community vision because they are too focused on money. "HP understood that their product – technology – is a means, not a meaning, so they were able to align a creative sense of belonging going beyond just buying a product," he added
Journalists should be using social media to create their own community around their stories. "Embrace a dialogue," said Fred, "rather than a monologue. Start your story with a few lines to engage readers with the story." Farid pointed out that Instagram is a good format for luxury goods, reliant on visuals; TV works for basic consumer goods, and Twitter for retail and engaging dialogue. "And think about using video," they both said. "Even when you're doing an interview, take out your smartphone and film at least part of it."
FF is an international creative community of 400+ people from 25+ nationalities. The group has produced campaigns for 100+ brands like Air France, Audemars Piguet, Audi, Coca-Cola, Diesel, Giorgio Armani, Google, Guerlain, HP, Lacoste, Louis XIII, Martini, Orangina, Porsche, Saint Laurent, Schweppes, Société Générale, Tao Bao, Tmall, Van Cleef & Arpels, Vivo, YouK and, Wrangler. Under its founding principles of ideas, emotions and passion, FF has won 800+ creative and effectiveness awards, and 25 agency honors.
-Shellie Karabell