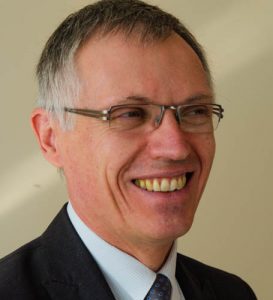 A dozen AAPA members now have a better grasp of CEO compensation, vehicle emissions standards, labor relations and how to pull a 200-year-old company from the brink of bankruptcy after meeting with Carlos Tavares, the fast-revving chief executive of Groupe PSA.
Speaking at a relaxed breakfast at PSA's Paris headquarters, Mr. Tavares revealed that he had been motivated by other factors than money when he had accepted in 2014 to take the helm of a company that was nearly bankrupt and was being kept alive by transfusions of cash from shareholders as well as the French state and Chinese partner Dongfeng. PSA swung to a 1.2 billion-euro profit last year after losing more than 8 billion euros from 2012 to 2014 thanks to a tough recovery plan.
Mr. Tavares said he had run an "enormous risk" in joining PSA "at a time when the company was almost bust". But he said he felt he had a moral debt to France, which had awarded him a scholarship to study engineering in France although he had grown up in Portugal. "When I came to PSA in December of 2013, many, many people, my friends, my family told me: "you are crazy, don't go there.""
PSA builds cars wearing the Peugeot, Citroen and DS badges, and is Europe's second-largest automotive group after Germany's Volkswagen AG.
Asked about the controversy over the doubling of his compensation that drew criticism from government ministers, Mr. Tavares maintained that he is still underpaid compared to most of his peers, is quite "relaxed" about it, and feels no guilt. He noted that a large chunk of his compensation package consists of performance-related stock that can evaporate if goals aren't met.
Mr. Tavares laid out PSA's new strategic plan called "Push to Pass" that focuses on a product and technology offensive; expanding internationally to spread geographic risks – including a gradual return to North America; and preparing the company for the future by exploring ways to leverage its expertise into new segments like into mobility solutions and services, such as car-sharing.
He applauded the good labor relations inside PSA compared to the past, saying it may reflect his unvarnished, straight-talking presentations of the challenges it faces. Describing the relationship with labor leaders as "very open, frank, absolutely not acrimonious," he said: "The more I am straightforward, blunt, perhaps even a little bit aggressive, the more people appreciate." "The fact that we had a near-death experience helps a lot to bring back people to reality and good sense. They understand that if we don't perform, if we are not competitive, at one point in time we go bust."
Some new vehicles have been found to emit excessive emissions compared to European Union norms when they are measured in real driving conditions. Mr. Tavares acknowledged that European Union emissions tests at present don't take into account typical car usage, but said PSA is working to develop a new, more representative test cycle.
Mr. Tavares, a successful racing driver whose Clementeam Racing team regularly racks up victories on European circuits, admitted that he is a "petrolhead," who needs the extreme sport for mental stimulation. "If I don't race, I'm not balanced. If I'm not balanced, I will not do a good job in PSA."
Mr. Tavares said he enjoyed the informality of our meeting, and said he'd like to meet us again.
-David Pearson
Link to article in The Local:
http://www.thelocal.fr/20160429/carlos-tavares–peugeot-i-feel-no-guilt-french-ceo-defends-25m-salary-rise
Video interview of C. Tavares (in French) at a racetrack
http://www.capital.fr/bourse/actualites/video-le-boss-de-psa-a-230-km-h-au-volant-de-sa-rcz-1122841#