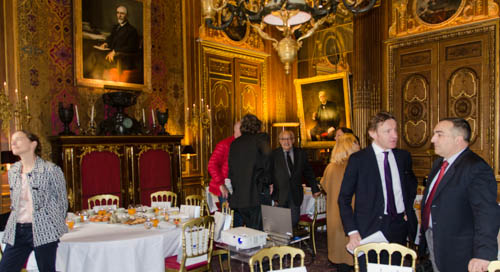 AAPA members and their guests now understand the illegal trade in cultural objects and the natural and human risks that owners of art works must address after meeting with senior insurance company executives and a senior police officer over breakfast for a panel discussion on May 25.
The meeting was hosted by AXA Art, a division of leading French insurer AXA, in the Hotel de La Vaupalière, an 18th century listed building that's part of AXA's headquarters.
Over 20 international journalists based in Paris attended, to hear and interact with Kai Kuklinski, Global CEO of AXA Art; Philippe Bouchet, AXA Art historian and specialist in 20th century art, and Colonel Ludovic Ehrhart, who heads the Central Office for the Fight Against Cultural Goods Trafficking (OCBC) of France's Police Judiciaire.
Mr Kuklinski described the kinds of risks that can be covered by AXA Art, the world leader in its sector with annual revenue of 176 million euros and operations in 24 countries. Transport and water are the biggest threats, he said, while curiously theft is on the decline. He added that the art market is becoming increasingly digital, and AXA Art is having to adapt to this.
Mr Bouchet discussed the kinds of risks homeowners take without realizing it in exhibiting and caring for their personal art collections at home. He also touched on the risks associated with apartment-living, in which your neighbor's water leak can become your problem.
Col. Ehrhart outlined the challenges faced by the OCBC. Among other things, the OCBC works with international organizations, including Interpol and the FBI – to identify and retrieve stolen goods on a large scale, such as those taken illegally from conflict zones such as Syria, Iraq and Libya.
The art market is now truly global and more complex, he said, as his team of 15 investigators now must track down people and financial transactions as well art objects from all over the world. A major problem is that art thieves tend to hide their loot for several years until the heat dies down and they can unload it in the open market and launder the proceeds. "Stealing isn't too hard," he said. "What's difficult is to sell it in the market."
Col. Ehrhart said he would be the "king of the world" if he could recover Rembrandt's "The Storm on the Sea of Galilee" that was stolen with other priceless paintings in Boston in a 1990 heist.
We were privileged to be given a tour of the Hotel de La Vaupalière, a listed building restored by Catalan architect Ricardo Bofill, with interior architecture by Francois-Joseph Graf, as the building is normally not open to the public.
-Shellie Karabell