AAPA members enjoyed a rare privilege on March 25 when they visited the Philharmonie de Paris, the city's brand-new classical music concert hall.
Located in the north east of Paris near the Porte de Pantin, a popular, working class area known better for its "Zenith" rock and pop music venue, the Philharmonie opened in January to resounding success, confounding critics who predicted that it wouldn't attract the well-heeled classical music aficionados who frequent concert halls in the more genteel areas of Paris.
The project was first conceived in 2006 out of a desire by the French government and the City of Paris "to introduce a new model of musical creation and transmission," Philippe Provensal, the institution's press officer, told a dozen AAPA members.
Apart from its off-center location, the hall innovates on several levels, Mr. Provensal, told us, notably by making the enjoyment of classical music more inclusive and less elitist.
Built at a cost of 380 million euros, the Philharmonie has been at the centre of a legal battle involving its celebrated French architect, Jean Nouvel, who quit the project before its conclusion and boycotted the official opening because construction work wasn't complete.
Meeting for an hour with the AAPA members, Laurent Bayle, the dynamic President of the Philharmonie, said the futuristic architecture and the centre's many activities are designed to represent a break from what he called "shoe box" concert halls built generations ago with single functions and debatable acoustics. "This is another model," he said. He dismissed the dispute with Mr. Nouvel, saying it was a row "about money and principle."
The AAPA members who were present can attest that the acoustics of the main concert hall are magnificent, as we were treated to a superb concert performed by the Mariinsky Théâtre Orchestra, from St. Petersburg, Russia.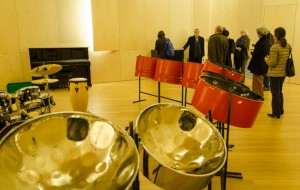 The main concert hall, capable of seating 2,400 people, is one of the largest in Europe. The building has five ultramodern rehearsal rooms that are also open to the public, and there are two separate auditoriums, one with 900 seats and another with 250 seats. Other facilities include a music museum, a media library, a large restaurant and rooms where youngsters – including those from the working class suburbs outside the Périphérique – can get hands-on musical experience.
Mr. Bayle has created four children's orchestras on a come as you like basis, where kids can just sit down and play any instrument they like to get the feel of it under the supervision of music teachers who are there to help and encourage.
Mr. Bayle said this is part of his goal to help break down the social and community barriers that prevent or discourage less well-off people from acquiring a taste for classical music and feeling part of the project. To make the Philharmonie more inclusive, he has adopted a policy of offering a quantity of affordable seats in every concert and scales prices to take in different segments of society.
"Even our detractors have stopped criticizing," he said with a certain note of satisfaction.
-John Keating