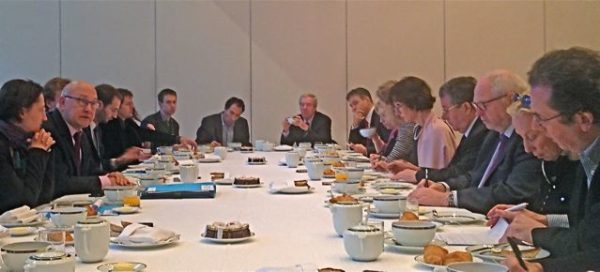 Britain and the European Union as a whole would lose out if the U.K. were to opt to leave the EU, French Finance Minister Michel Sapin has warned.
"If the UK forfeits its place in the EU, then Europe would be weakened and the UK would also be worse off. It has to stay in," he told over 20 AAPA members over breakfast at the Finance Ministry on Nov. 20.
"But the British will be British, just like the French will be French", Mr. Sapin said. He noted that France will benefit from the decision by Brussels to send Britain a budget bill for an additional €2.1 billion. British Prime Minister has reacted angrily to the additional cost, but Mr. Sapin said that « what is sending Mr. Cameron into a fury is actually a gain for us. It allows us to get €1 billion" at a time when France is struggling to reduce its budget deficit.
Asked to comment on so-called "French-bashing" by the U.K. media, Mr. Sapin acknowledged that the French media aren't blameless, either. "It also happens that we do a little bit of Brit-bashing here too, but what I really don't like is French-bashing by the French themselves. They are often the hardest on France."
Differences between France and Germany over economic policies are exaggerated, Mr. Sapin, noting that German resistance to stimulating public investment is waning. "Of course, we can have disagreements, but we have to work together," he said.
Mr. Sapin acknowledged that the anemic state of the euro-zone's economy is a concern. There's a possibility that near-zero growth rates could be prolonged, but policymakers know they have to act now to prevent the area sinking into the deflationary scenario that dogged Japan for over a decade. "It's urgent to react," he said.
It was the AAPA's second meeting with Mr. Sapin. Our first encounter was in 1992 when Mr. Sapin was justice minister in the government of Edith Cresson.
-David Pearson (with Rory Mulholland)