In just a decade from now, the Gare du Nord and the Gare de l'Est will no longer be able to cope with traffic from Strasbourg, Germany, Belgium, and the Netherlands, Benjamin Griveaux, candidate of La République en Marche for mayor of Paris, told the Anglo-American Press Association on January 30th.
If he is elected, Griveaux wants to build a new metropolitan train station at the northeastern edge of Paris, either at La Villette or in the suburb of Noisy. He says the project would take ten years and cost euros 1.5 billion.
Griveaux would "return to nature" 74 acres of disused railway tracks, endowing the residents of Paris's most densely populated districts with a New York-style Central Park.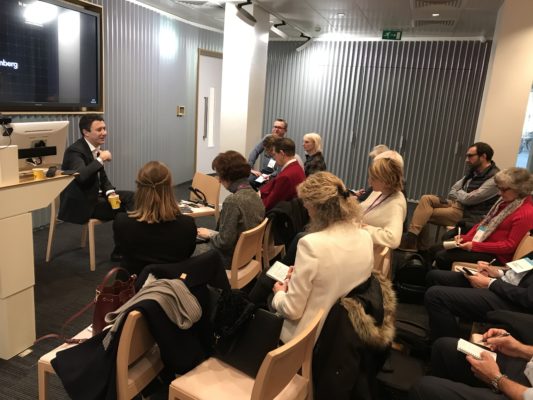 Other ideas proposed by Griveaux were: creating port facilities on the Seine so that businesses could deliver goods by boat; developing teleworking to reduce traffic and greenhouse emissions; offering a euros 2,000 bonus to motorcyclists who switch to electrical vehicles; increasing the frequency of buses into the city from parking lots at the periphery, and fighting the housing crisis by helping landlords to renovate vacant apartments to legal standards.
"Up to ten per cent of apartments in some Paris districts have no running water, no showers or toilets, except on the landing," Griveaux said. It was also incredible, he said, that Paris has no traffic police.
Griveaux said the independent candidacy of Cédric Villani, who like him is a deputy in the National Assembly for La République en Marche, is "an ego thing". Villani has refused all contact with him. "One can be a mathematician and make wrong calculations," he said.
It is too late to change the voting system for the upcoming March 15th and 22nd municipal elections, Griveaux said. In Paris, the municipal poll is in fact 17 different elections, with four central Paris districts in one group, plus 16 others electing city councillors, who then elect the mayor. Griveaux said the present system poses a danger comparable to the US presidential election, which enabled Donald Trump to became president despite losing the popular vote.