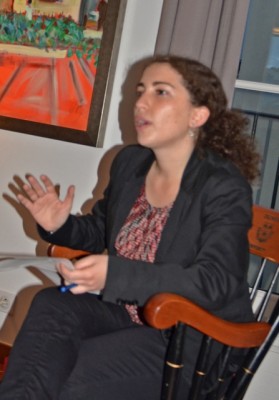 AAPA members now know the who, what, where, when and why of the upcoming COP21 conference on climate change thanks to a briefing on Nov. 3 from Celine Ramstein, the COP21 project manager for the Institute for Sustainable Development and International Relations.
Over 90 minutes, Ramstein, whose institute is working closely with the French government to prepare for the negotiations, enlightened us on what's at stake, why this meeting is different from the ones that have preceded it, where the major fault lines are, and what the outcome means for France.
The meeting was kindly hosted by AAPA Vice-President Sara Miller Llana in her apartment, which gave it the feel of a casual, collective conversation and helped members learn from one another. It also kept the focus on the kinds of topics that journalists will be watching. Ramstein, who has worked for the French embassy in the US, talked reporters through technical matters in her fluent English.
Funding shortfalls, battles between the developing and developed world, France's expectations, logistical challenges, new space for civil society, the Pope, China, and French politics were all points raised during the session.