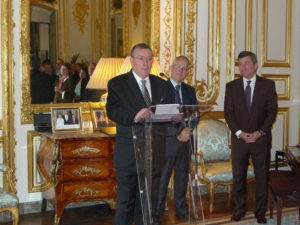 Rain or shine, the Anglo-American Press Association's Annual Gala is one of the year's highlights. This year it was definitely rain. But the inclement weather dampened no spirits.
This year the hosts were U.S. Ambassador Charles Rivkin–who along with the British Ambassador is an honorary AAPA co-president– and his wife Susan Tolson.
The Ambassador welcomed members and guests to his official Residence in a speech that covered the proud 105-year history of the AAPA and explained how a diplomat's role is not so different from a reporter's. He described his job as "keeping the President and his advisers informed about what is happening inFrance." Since his arrival as Ambassador in 2009, Rivkin has visited every department at least once, in order "to meet with men and women from all overFrance from all walks of life" to discover and report on the many facets of the country today.
While Ambassador Rivkin raised the possibility that this could be his last AAPA gala as host, given that the position usually changes after a Presidential election, this was the first AAPA event for Sir Peter Ricketts, who became Britain's envoy toFrance earlier this year. In his remarks, Sir Peter introduced his wife, Lady Suzanne Ricketts, and gave a brief history of some of his more colorful predecessors. He also spoke of the importance of the special relationship between the US and the United Kingdom, and the triangular relationship involving the US, the UK and France, talking movingly about his participation, along with that of Ambassador Rivkin, in this year's D-Day commemoration in Normandy. He also reminded the group that France,Britain and the United States continue to work together militarily, notably in Afghanistan.
After thanking all those involved in organizing this year's gala, AAPA President John Keating devoted his remarks to the current, healthy state of the AAPA. By the end of June, Keating said, "we will have just over 100 members." Twenty new or returning members have come on board since November, he noted. Then he joked, "Next year, we are hoping to break the 1,000-membership mark and go public."
President Keating also reminded the audience that this season, "we had exclusive access to 15 or more guests, ranging from senior ministers, ambassadors, bankers to renowned journalists and writers." He promises that trend will continue.
Another trend that will continue: The Annual Gala, with Sir Peter committing to upholding the age-hold tradition of  hosting next year's event at his Paris Residence. As the rain restricted the 90 or so guests to the same elegant drawing room, there were many occasions for animated conversation, intense networking and even a little eavesdropping. Little wonder, the evening went well past the 8:30 p.m. scheduled end. It was, as US press attaché Paul Patin said in a note the following day, a "nice party." His deputy, Chris Palmer called it a "great" one, a sentiment echoed by many AAPA members who complimented not only the setting and atmosphere, but also the excellent food, non-stop champagne – and umbrellas.
— Ann Morrison