After a cold, soaking spring, the sun finally came out just in time for the Anglo-American Press Association's annual gala on June 4. People called it the best day of the year (so far), and it certainly was a great evening for the AAPA.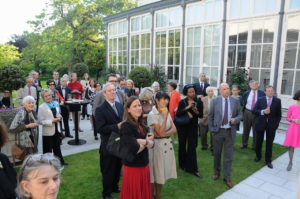 The gala venue alternates between the official residences of the AAPA's two honorary co-presidents, the American and the British Ambassadors. This year the host was the UK Ambassador, Sir Peter Ricketts, who welcomed guests as they made their way through the impressive 18th century Hotel de Charost to its luxurious gardens.
In his wide-ranging remarks to the 60 or so AAPA members and guests — a smaller turnout than usual — Sir Peter referred to British-French relations, particularly the obvious affection shown on this side of the Channel for Queen Elizabeth, who was celebrating the 60th anniversary of her coronation that same day. He also remarked how varied his recent guests had been: Camilla, the Duchess of Cornwall, rocker Ron Stewart, and Prime Minister David Cameron. Sir Peter lamented the fact that David Beckham had retired from the Paris Saint-Germain football squad without ever having played on the magnificent lawns of the Embassy's Residence. Finally, he listed as perhaps his biggest accomplishment of the spring: providing the AAPA with such excellent weather.
Philip Breeden, the US Minister Counselor for Public Affairs, represented Ambassador Charles H. Rivkin, who had diplomatic matters to attend to that evening. In his brief remarks, the Minister Counselor quoted Harold Nicolson, British diplomat, politician and writer, who said that the best kind of diplomats "are reasonable and humane skeptics." Breeden suggested that would be an appropriate characterization of good journalists too.
Though he had prepared remarks summing up the association's events and accomplishments for the year, President John Keating abandoned his script in favor of thanks to Sir Peter, to the staff of the British Embassy and to everyone who helped organize this year's gala. He underlined the ongoing strength of the Association, whose membership remains stable at 105 this year, despite the financial difficulties facing the media, and recalled a series of important events that the AAPA has organized in recent months with top government officials.
The party went on, enlivened by the continued presence of Sir Peter and Mr. Breeden, as well as distinguished guests from the Elysée Palace, Matignon, the Quai d'Orsay and the US Embassy. Sir Peter even invited a small group to see his library and private office, while in the garden networking, eating, gossiping, eavesdropping and much picture-taking ensued. And there was drinking too. The Pimm's Cup, a British specialty, was more popular this year than ever. But it couldn't quite compete with the bubbly. The champagne was Pol Roger, Churchill's favorite — for some of those gathered, a reminder of D-Day, the 69th anniversary of which was just two days away.
-Ann Morrison
-Photos by Gérard Charlier