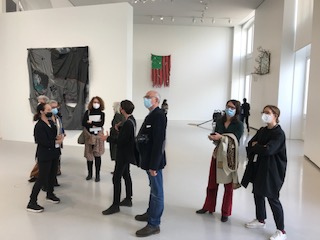 The AAPA visited the new Pinault Collection on May 18 (4 days before the official opening), thanks to the organizational skills of Elaine Cobbe (with Shellie Karabell shepherding on-site). Both the building and its contents were impressive!
Architect Tadao Ando's welcoming and subtle design, blends history with contemporary art. The spatial layout of concentric circles features 10 galleries over 75,000 square feet of exhibition space, including a studio dedicated to video and audio works and an auditorium for conferences, meetings, screenings, concerts, and events. A restaurant headed by Michelin-starred chef Michel Bras occupies an upper level and is open to the public until midnight thanks to a separate after-hours entrance.
Luxury magnate and art collector Francois Pinault himself chose the 30 artists and 700 pieces for the inaugural "Ouvertures" exhibition (many of which have not been seen before), including works by Bertrand Lavier, David Hammons, Rudolf Stingel, Miriam Cahn, Tarek Aroui, and Thomas Schutte.
History Preserved
The Bourse du Commerce is a monument to four centuries of French history: this was the site of Catherine de Medici's 16th century palace, Hotel de Soissons, boasting the city's first free-standing column. The palace was torn down in the 18th century but the pillar remains in the domain of the museum.
An iron and glass dome (inspired by the Pantheon in Rome, featuring murals representing French trade across the continents) was added in 1811, and in 1888–89, much of the building's structure was replaced, retaining the layout and the dome. The dome is listed as an historical monument, subjecting the building's $195-million renovation to very strict rules from France's heritage authorities: the building is only leased (for 50 years), not purchased, at a cost of $18-millon upfront, $75,000 annually, and a share of the ticket sales. At the end of the lease, the building must be returned to the state minus the renovations.