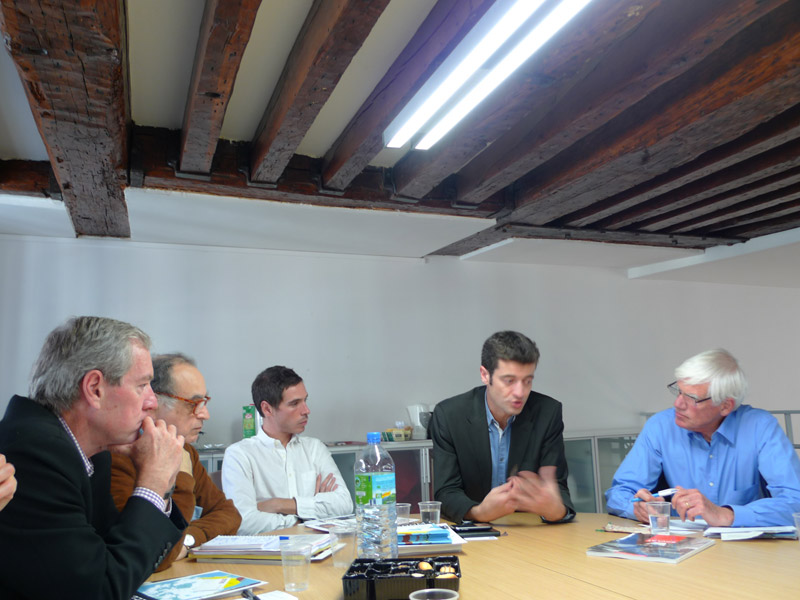 Protecting the freedom of journalists has become far more difficult and complex during the past few years, but organized efforts to combat media controls are increasing throughout the world, according to Jean-Francois Julliard, secretary general of Reporters sans frontières.
Meeting with over a dozen of us at RsF headquarters Oct, 18, Julliard, who became its secretary general two years ago, explained how the use – and manipulation – of Internet by governments, criminal organizations and even companies has made protection of journalists more difficult.
Increasing numbers of journalists in war zones has also complicated the tasks of RsF, set up to defend the freedom of journalists, improve their safety and help those in difficulty or in prison, he said
Operating with an annual budget of some four million euros, funded by sales of photos and publications, as well as private contributions, RsF still faces major obstacles, Julliard said. Rsf officials can no longer travel to China to pursue cases there, for example, nor to Iran and Tunisia, due to strict government controls and censorship.
But he also indicated that RsF has moved away from heavily-publicized demonstrations seeking to help free journalists taken hostage. "We now rely on both communication and diplomacy," he said, yet the French government does not share information on the efforts to release French journalists taken hostage. Details on Rsf's efforts and ongoing campaigns can be found on www.rsf.org
Julliard said that, given the growing complexity of protecting the freedom of journalists, RsF now has a volunteer group of nearly a dozen lawyers working with him and his staff.
Groups similar to RsF, but more modest in scope, are being organized in developing countries, Julliard said, citing Ethiopia, the Congo and Somalia. "National bodies, embassies and active supporters of our cause of freedom of expression such as financier George Soros, are also part of the struggle…we will not stop."
—Axel Krause