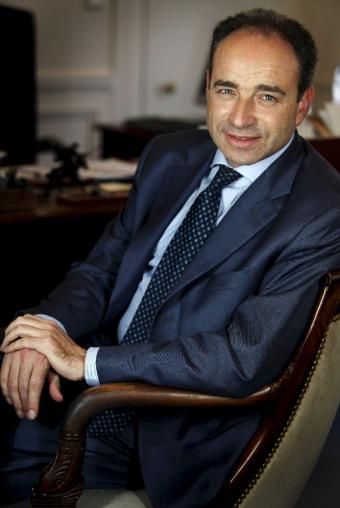 In our second meeting with him in just over a year, on October 27, Jean-François Copé, close ally of President Nicolas Sarkozy and UMP secretary general, provided insights and blunt commentary on the looming presidential election next spring, and on why he thought there was little if any debate here on France's foreign policy.
We met at UMP headquarters over breakfast, almost entirely on-the-record, a format he said he would like to continue with the AAPA. He suggested a third meeting next February, when the presidential campaign will move into high-gear. He noted that "in fact the campaign has already begun…we now know who our main adversary is," a reference to the Socialist Party's recent primary which approved François Hollande as its presidential candidate.
While noting that President Sarkozy has not yet officially announced his candidacy for re-election, Cope clearly indicated that this would come between now and February, and that the UMP is working on the assumption that he will run. He said the main line of attack for the election platform will be to demonstrate thatHolland's proposals for reforming the French economy will involve a cost of some 250 billion euros in new spending thatFrancecannot afford. "Our program will involve zero supplementary spending," he said.
Responding to questions, he describedFrance's Green party as "Trotskyists, not ecologists," and the French media as being dominated by left leaning journalists. There is no room for a "centrist" party role in the campaign, Copé said, and described Hollande as "a Social Democrat" rather than a true Socialist.
He also agreed that there has been little if any public, national debate regarding foreign policy issues, such as Afghanistan, Iraq, France's role in NATO and the future of the European Union, and said this is probably because France's foreign policy is "relatively consensual."
-Axel Krause