President Emmanuel Macron represents the last chance to reform France's rigid labour market, but his reforms should not make the country end up like the US or the UK, Pierre Gattaz told AAPA members over breakfast at Medef headquarters on June 23.
"France won't have another opportunity. Now we have no option," the head of France's biggest employers' federation said.
Gattaz and his fellow business leaders are pleased with Macron's economic programme, and back his plans to give bosses more power to negotiate conditions with workers at company level and to cap the severance pay awarded by labour courts. But the new president's plans have left some trade unions seething and warning of mass street protests. They fear the loss of workers' rights and the power of the trade unions undermined.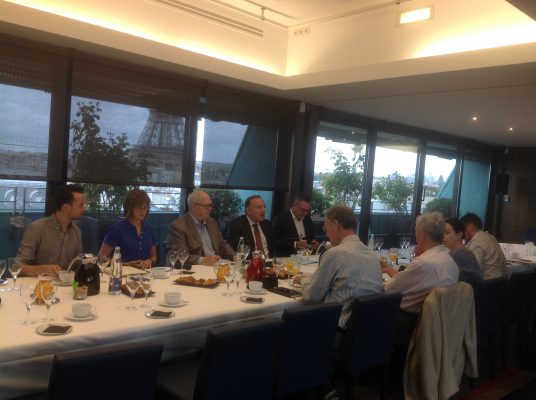 Many of those who oppose the reforms fear they are a step towards a deregulated labour market along the lines of the US or Britain. But Gattaz said he did not see an ultra-liberal model as the right one for France.
"It's too far from the French culture," he said. "Maybe France will get there in 20 or 30 years' time… but I don't think it's the right model." He believes France should aim for a "midway point" that ensures "flexibility and security" along the lines of the Danish model.
But one benefit of the UK model is that it creates high levels of employment, he said. "When you have a labour market that is blocked like that in France where there is 10 percent unemployment the balance of power favours companies," said Gattaz.
"But when you have a labour market with three percent unemployment like in London then it's the workers who have the power. Because the workers can decide to quit their job if they don't like it and find another one the next morning."
The Medef leader warned that the far-right or the far-left could take power in the next presidential election if Macron does not create more flexibility in France's labour market.
"If there are no reforms then in 2022 then we will have Marine Le Pen and (Jean-Luc) Mélenchon in the second round of the election," he said.
-Rory Mulholland