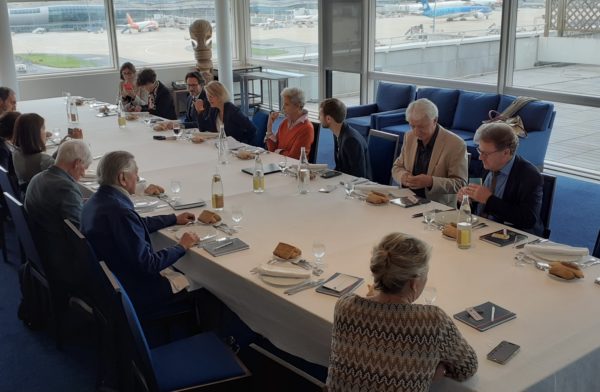 The AAPA was invited to lunch and a visit to the flight archives to celebrate the 90th anniversary of Air France at the company's headquarters at Charles DeGaulle on Sept 29.  
We were joined at lunch by Anne Rigail, CEO of Air France, the first woman to hold this executive position. As a veteran of Air France dating back to 1996, Rigail had a lot to share with us about the business of flying.
She said Air France had 12,000 people in training to handle the increased passenger load during the 2024 Olympics, with an emphasis on customer relations. She was eager to point out that the company's rise to # 7 (from #18 in 2008) in the Skytrax rating, an ascension she credited with the increased authority given to cabin attendants and ground personnel in 2011 in handling crises and special situations rather than rely strictly on training handbooks.
Rigail pointed out that Air France has had no strikes since 2018 and spends between 20 and 30% of her time communicating with unions to get buy-in for management strategy from the rank and file. She does not anticipate strikes during the Olympics as "no one wants to spoil the games or the image of France as the host."
She blamed soaring fuel costs for most of the rise in ticket prices, and said new aircraft coming into use, such as the Airbus 350, use less fuel and are generally more efficient and comfortable –issues that company research show are important to customers today — more important than speed, she added, suggesting the days of SST travel are not coming back. Rigail can imagine hydrogen fuels and even electric power for smaller planes by 2030. As for the super jumbo jets…Air France exited the A380 in 2019.  
Because Air France serves champagne in all classes on its long-haul flights, the company is one of France's biggest champagne customers, consuming more than one million bottles a year. Rigail also said the company was expanding its choices for vegetarian in-flight menus beyond pasta. We were served varied first-class cabin menus…but no champagne.
Our visit to the Air France archives gave us access to a treasure trove of old posters, uniforms, toys, and other memorabilia dating from 1933.
-Pictures: courtesy Air France