"There is such a profusion of information out there today, such a big news flow, that we need to be served by professionals," Publicis Groupe Chairman and CEO Maurice Levy told two dozen AAPA members on Nov. 6.
"In the last decade there has been a profusion of blogs and communications from 'citizens,' all co-producing news. This trend is now being reversed. The tide has turned. There have been too many cases where the information has been incorrect," he said.
M. Levy was speaking to us at a breakfast meeting on the seventh floor of Publicis' corporate headquarters overlooking the Arc de Triomphe. Our discussion covered a wide range of topics from the state of the media industry to Big Data, customer responsiveness, privacy concerns and even the Middle East.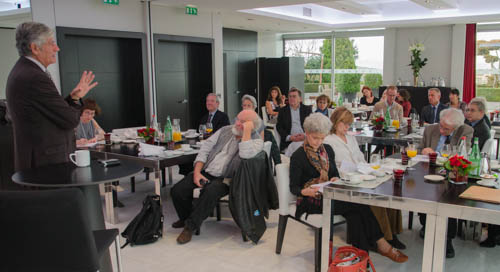 Levy was awarded the Anti-Defamation League 's International Leadership Award in 2008 for his works promotion tolerance and diversity, and was recently given an honorary doctorate by the University of Tel Aviv for his work in combating anti-Semitism and promoting peace efforts between Israelis and Palestinians.
He acknowledged, however, that achieving a dialogue for peace in the Middle East isn't easy. "It's very difficult to make progress," he confided. "It's like Sisyphus – a few yards forward then back a mile."
The communications industry, it seems, is moving forward more quickly. "We
expect digital – that's Internet and mobile – to be larger than TV advertising between 2020 and 2022," he said, reflecting trends in the industry. Having access to information on consumers makes it easier to target them directly, thereby lowering the amount spent on media advertising, M.Levy said, but consumers are becoming picky about what they receive in exchange for their personal data.
M. Levy added that Publicis was sensitive to public opinion and bound by France's Committee Nationale de l'Informatique et des Libertes (CNIL) to tread carefully regarding the way it collects consumer information. He said that the question of who actually owns this data – currently in the hands of a handful of American and Chinese companies – will take some time to sort out.
Levy shared with us a little-known anecdote about his early career. Before joining the IT department of Publicis in 1971, he worked for another French PR/advertising firm. One day the boss of that firm made him an offer to become CEO, at the tender age of 29. "Why me?" he asked. "Because you're the best," came the reply. "If I'm the best at age 29," Levy said, "then there is no one here for me to learn from. I will have to change agencies." He did. And the rest is history.
-Shellie Karabell
Link to Irish Times article:
http://www.irishtimes.com/business/media-and-marketing/a-giant-of-advertising-gives-his-spin-on-the-age-of-disruption-and-blurred-lines-1.2424395
Link to Forbes article:
http://www.forbes.com/sites/shelliekarabell/2016/02/25/publicis-ceo-maurice-levy-on-digital-big-data-legacy-media-and-lifelong-learning/2/#12438fa87bab