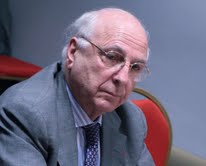 We are sad to announce that John D. Panitza, former Managing Editor of
Reader's Digest and a long-time member of AAPA, died in Paris on July 28 at the
age of 80 after a long struggle with cancer.
"Dimi," as he was known to all, worked for the Digest for 42 years, most of them
as head of its European Editorial Office in Paris, which produced articles for the
magazine's numerous editions around the world. He also helped create several
Digest-sponsored books, including The Bridge at Spandau (about the Hungarian
revolution in 1956), The Longest Day (about D-Day), Is Paris Burning? (about
the liberation of Paris), and The Last Battle (about the fall of Berlin in 1945).
Born in Sofia, he left Bulgaria at 18 but remained passionately devoted to his
native land. In 1991 he and his wife, Yvonne, also a Digest editor, established
the Free and Democratic Bulgaria Foundation, devoted to fostering the post-
communist democratization of the country. For the next 18 years the foundation
played a major role in Bulgarian civil society, sponsoring the successful programs
for street children, drug use prevention and treatment, university scholarships for
Bulgarian students and the Pantiza Excellence in Journalism Prize.
Dimi was also a founder and board member of the American University in
Bulgaria, the first American institution of higher education established in a former
Iron Curtain country. He helped create its library, which now bears his name.
The funeral was held on August 2 at 2:30 pm at the Alexander Nevsky Cathedral on
the rue Daru.