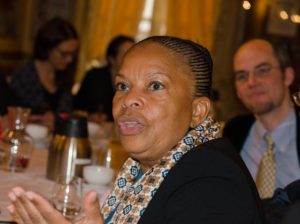 France is preparing tough, judicial measures to deal with terrorists, dangerous "jihadists" and those who justify "Jihad," French Justice Minister Christiane Taubira told two dozen AAPA members over breakfast on January 27.
Speaking three weeks after the Charlie Hebdo shootings in Paris, Mme Taubira told us that the government won't compromise in its efforts to clamp down on people who justify terrorist acts via Internet  or in public speech. She also outlined the government's plans to prevent radical prisoners from preaching extreme ideas to more vulnerable inmates, and announced plans to visit the U.S. in February.
It was the first time France's judicial policy for dealing with known and potential terrorists – curbing support for Jihadist sympathisers and stemming radicalisation – had been set out so clearly, participants agreed.
During an hour-long Q&A session, Mme Taubira outlined some of the recent measures that have been adopted in the security-judicial domain and further steps under consideration. She acknowledged that France "is confronting a very, very difficult moment in time. Obviously, the subject that is forced upon us all is the way to protect the population and fight against terrorism."
Discussing the initiatives being implemented in French prisons, she rejected suggestions that radical prisoners were being systematically placed in solitary confinement but said they were being sectioned off in specific areas so as not to have access to the general prison population.
"It's about regrouping and not isolating," Mme Taubira said. "In our legislation we have the possibility to isolate detainees, and we have a list of people…and there is a rule that allows us to put these people in isolation" which the detainee can then appeal, she stated. Furthermore, the "regrouping policy" of the most "radicalised" prisoners is being expanded, but only for those "convicted of terrorist acts."
This policy aims "to protect the greater mass of prisoners from people who proselytise" and indoctrinate prisoners who are "very fragile" and come from difficult economic, social or family backgrounds.
She stressed that isolating potential problem prisoners was not the only approach being used, and she pointed to efforts to solicit help from academics and university experts to work with the prisoners and try to understand what is happening. She has also launched a programme to train Muslim prison chaplains – whose number has been increased significantly in the past two years.
"For example, there are very rapid radicalisations, over a few months…and there are 21 percent of these radicalised people who are converts," she revealed.
Nonetheless, and despite efforts in other countries, Mme Taubira said France was not yet ready for a major de-radicalisation or de-indoctrination programme of prisoners. However, she did not rule out a "de-indoctrination" approach in the future as this could be a long-term goal in protecting against terrorism.
Turning to her imminent trip to the U.S., Mme Taubira said she will be seeking to bolster "very, very intense cooperation" when she meets her U.S. counterpart, Eric Holder, whom she hosted in Paris several months ago. She said that the two sides wanted to discuss "specific subjects," and during her stay she will also address the UN Security Council's Committee on Terrorism.
On Franco-American relations, she said the aim was to "fine-tune cooperation on precise subjects" in what is a complicated area because of the different judicial systems in the two countries.
"It is not easy on any subject" because of "different cultures and procedures" within Europe and with respect to the United States, she stressed.
-John Keating