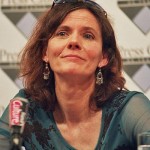 It was one of those rare, friendly, informal meetings with a top French journalist: Florence Aubenas, the prize-winning war correspondent and former hostage in Iraq, whose best-selling book Quai de Ouistreham, recounts her six months living as a lower-class cleaning lady, notably on an English ferry boat.
A dozen members spent two hours with her at Member John Morris' Marais apartment March 15, talking about her book, the realities and risks of being a foreign correspondent, and what it's like being both a journalist at Nouvel Observateur and president of France's leading NGO promoting reform of the nation's prison system.
The French media largely ignore the day-to-day lives of those living in constant jobless precarity, she explained, which inspired the idea for the book.
Regarding the delicate issue of paying ransoms for hostages, and without providing details of her own release in 2005 after several months of captivity in Iraq, Aubenas said that France's policy is the opposite of U.S. policy and does in fact pursue negotiations.
The final phase of the evening, graced not only by John's hospitality but the beverages and snacks volunteered by those who attended, covered a wide range of questions related to the reform of French prisons and her ability to be a journalist and an advocate.
"My position at the OIP, the Paris-based International Observatory of Prisons, is not political," she said, "and involves being devoted to improving human rights…a devotion I apply in journalism and in my writing."
—Axel Krause