Kering's Chief Sustainability Officer and Head of International Institutional Affairs, Marie-Claire Daveu, hosted the AAPA at a morning coffee on December 3 at Kering's headquarters on the rue de Sèvres in a historic building that — until 2000 — housed the Laennec hospital.
Kering was appointed by French president Emmanuel Macron to head the country's effort to make fashion more sustainable. It led the company to create its 2025 strategy – the deadline year by which Kering will aim to reduce its environmental footprint by 40% and its greenhouse gas emissions by 50%, and to put into effect full traceability of its raw material sourcing. Daveu also pointed out that already 67% of the energy used throughout the Kering company is created from sustainable sources.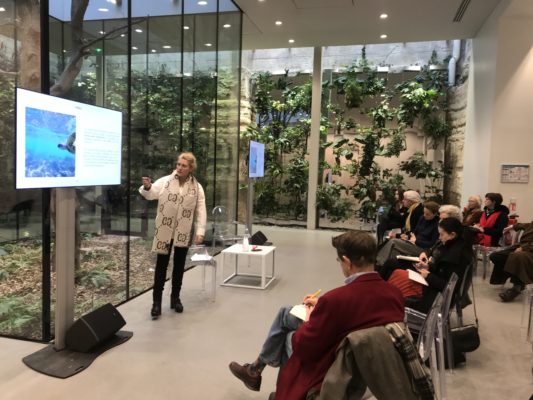 In an effort to extend the fashion industry's commitment to sustainability beyond the luxury niche and in the long term, Kering recently created a G7 Fashion Pact, to which 56 companies in the G7 have already committed.
And, as an unintentional follow-up to the AAPA's Climate Change and Mass Migration panel discussion held November 28 at the OECD, she mentioned Kering's recognition of the link between these two phenomena, which are crucial social concerns today.