T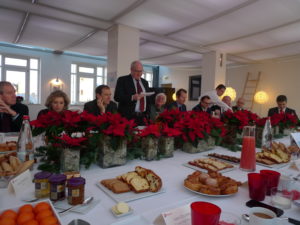 here is no danger of the world running out of oil and gas any time soon, but it will never be cheap, the head of France's largest and most profitable company told more than 20 AAPA members at a breakfast meeting on Dec. 11.
Christophe de Margerie, chief executive of French oil and gas giant Total SA, told us that new discoveries and technological advances have increased the oil industry's ability to increase production in recent years, so that the global maximum for oil production is now estimated at 98 million barrels of oil equivalent a day, three million more than was thought possible just a few years ago.
At the breakfast event, kindly hosted by Total at La Maison du Danemark, Mr. de Margerie told us that high energy prices are a necessary evil because they allow oil companies to cover the high cost of exploring and producing new resources. He reminded us that the oil industry by definition has a long-term horizon, and that almost all of  Total's projects that will come on-stream by 2017 have already been launched. The company is stepping up its investments to find and exploit new resources, he said.
In a wide-ranging discussion, Mr. de Margerie talked about the crisis that's affecting the economies of Europe and the rest of the world, and the austerity policies that have been adopted in France and other countries. While there's clearly a need to reduce public deficits, he said, governments in France and elsewhere must be careful to avoid killing their economies by shifting new burdens on to the corporate sector that would erode companies'  longer-term competitiveness.
-David Pearson