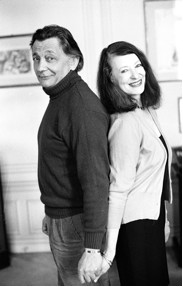 Long-time AAPA member Gerry Dryansky has won the American prize in the Gourmand World Cookbook competition for 2012, for "Best Culinary Travel Guide" with his latest oeuvre, "Coquilles, Calva and Crème: A Love Affair with Real French Food," published by Pegasus Books. Co-written with his wife Joanne, the book brings to life some of the most fascinating, glamorous food years in France—evenings with Coco Chanel and Yves Saint Laurent, historic wine auctions and memorable banquets. The Dryanskys travel through kitchens, farms, and vineyards, offering a savoury experience that can be duplicated by the reader with numerous recipes.
Publishers note:
In the world of today's professional cooking, publicity chasing has overshadowed the importance of dining and the food itself and, too often, Dryansky has found the modern restaurant to be a mixture of bizarre
novelty and paradoxical cliché. But with this volume, whether at small restaurants in, say, Paris, Normandy, Alsace or the Basque country, Dryansky reveals the real soul of France's rich traditions, in what Michael Dirda, the Pulitzer Prize winning critic of the Washington Post praised as "a book to dream over."
"Seasoned with wit and charm and rich with food-lover wisdom, it captures what France does best."—Mort Rosenblum, winner of the James Beard Award and AAPA member.
"An appetizing, evocative, eccentric paean to Gallic gastronomy." —Colman Andrews, The Wall Street Journal.