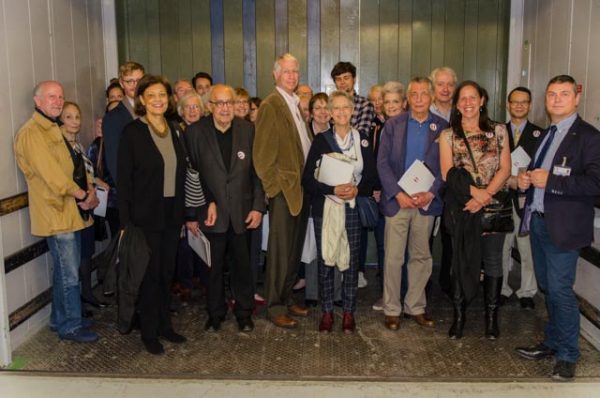 The AAPA's evening field trip on May 18 to Drouot, Paris' historic and esteemed auction house, was an eye-opener to most of the group who had never experienced a high-powered auction in full swing.
Drouot opened in 1852 and is the world's largest public auction space, with 18 auction halls where 110  affiliated auctioneers sell off objects to the highest bidders from premium art works to more humble possessions. Today, some 500,000 items a year pass through Drouot – art, furniture, wine and curios from past centuries as well as younger bargains.
Our group was greeted with champagne and a presentation of Drouot from CEO Olivier Lange. Then we were taken upstairs and allowed to wander the exhibit rooms where vast worlds were on display.
What sets this house apart from confreres Christies and Sotheby's is it's accessible to everyone. You don't have to be an art expert or a millionaire to bid at Drouot. Some 5,000 people come in off rue Drouot every day to browse or bid.
We were able to watch two auctions taking place, including a competitive, modern art sale where a work by French artist Yves Klein was knocked down for 465,000 euros, many times the estimate. Bidders' calls came in from around the world as a line of multilingual staff manned the phones and logged internet bids.
We also had the privilege of being taken downstairs in a freight elevator into the bowels of the newly redesigned auction house to see all the items being stored for pick up. If you can't take what you bought right away, Drouot will hold it for you for a fee. There are some real treasures down there!
-Eleanor Beardsley