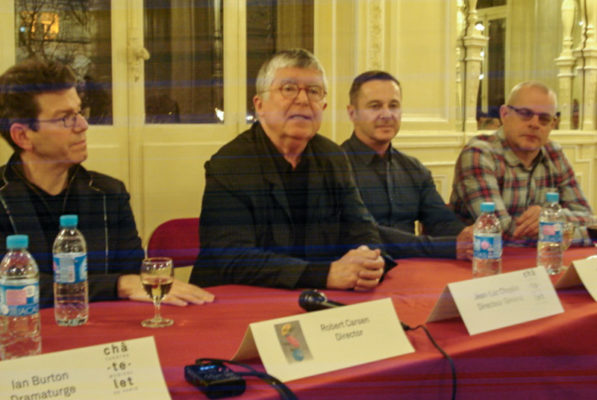 Some 30 AAPA members and their guests now have a better idea of what goes into producing a world-renowned musical after their privileged behind-the-scenes visit to the Théâtre du Châtelet's production of "Singin' in the Rain" on March 6.
We enjoyed an hour-long tête-à-tête with the show's director Robert Carson, choreographer Stephen Mear, dramatist Ian Burton, musical director Gareth Valentine, and the director of the Châtelet Theatre, Jean-Luc Choplin.
The show opened March 12, runs through March 26, and will return to Paris for a second run at the Châtelet for three months in November.
Choplin has brought classic American musicals to Châtelet over the last decade, making Paris a top venue for musical theatre and turning Parisians into real fans of the genre.
"As a city-subsidized theatre it's our responsibility to bring Parisians a wide range of productions and the best the world has to offer," Mr. Choplin told us.
Robert Carson – who also directed Châtelet's production of "My Fair Lady" in 2014 – said the secret to presenting such classics as "Singin' in the Rain," is to avoid trying to simply repeat them.
"It's impossible to rival iconic films; you can't copy them," he said. "The best way to honor them is to slightly move away."
Mr. Carson said Châtelet's version of the 1952 Gene Kelly classic is more about the black and white cinema of the 1920s, when the story is set, than the saturated Technicolor of the 1950s film version.
"We also shot many movies for our production," he said, "and it's very important to blend the cinema part with the live theatre so it doesn't feel like a clunky thing moving from film to stage."
After a fascinating discussion with these icons of the world of music and dance, we were taken to the theatre to watch part of the first, full dress rehearsal with orchestra. It started and stopped its way along as the directors and technicians hashed out the finer points, yelling out to each other in French and English across the dark, empty theatre.
It's not the first time that Châtelet has adapted a movie to the stage. Last fall, along with a team from Broadway, the theatre co-produced the world's first stage version of the 1950s Hollywood hit, "An American in Paris," also starring Gene Kelly. The show debuted in Paris last November to sold out audiences and rave reviews. It then travelled to New York, where it opened this March on Broadway.
Music director Gareth Valentine told us that Châtelet, unlike Broadway or the West End, still performs with full orchestras, which he says makes putting on a production here "a total joy."
"To stand in front of an orchestra of 42 people and hear that score being played … that alone is well worth the ticket price," he said.
-Eleanor Beardsley
(Link to an article on the show by Eric Randolph of AFP)
http://news.yahoo.com/singin-rain-paris-fell-love-us-musicals-151037124.html